For information about the Hidden Heroes series of true missionary stories, as well as my other books, click on the tabs above. You can also go to the Hidden Heroes Missionary Stories Facebook page for current happenings.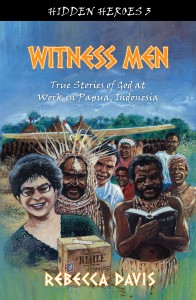 So far there are books based in Ethiopia; Central African Republic; Papua, Indonesia;  Southeast Asia; and Colombia, with more to come!
Sometimes it's news about missionaries or my books, but mostly it's what the Lord has been teaching me. As my daughter
observed, it's my online personal devotions. This is the outworking of the worldview that's reflected in my books.

Looking for the Traditional College & Degree Alternatives seminar? Right person, wrong site! Join our discussion in our Facebook group.